Executive Summary
Oliver-Evans Road Tract: 51+/- acre pay-as-cut clear-cut. Bid Date: 3/5/20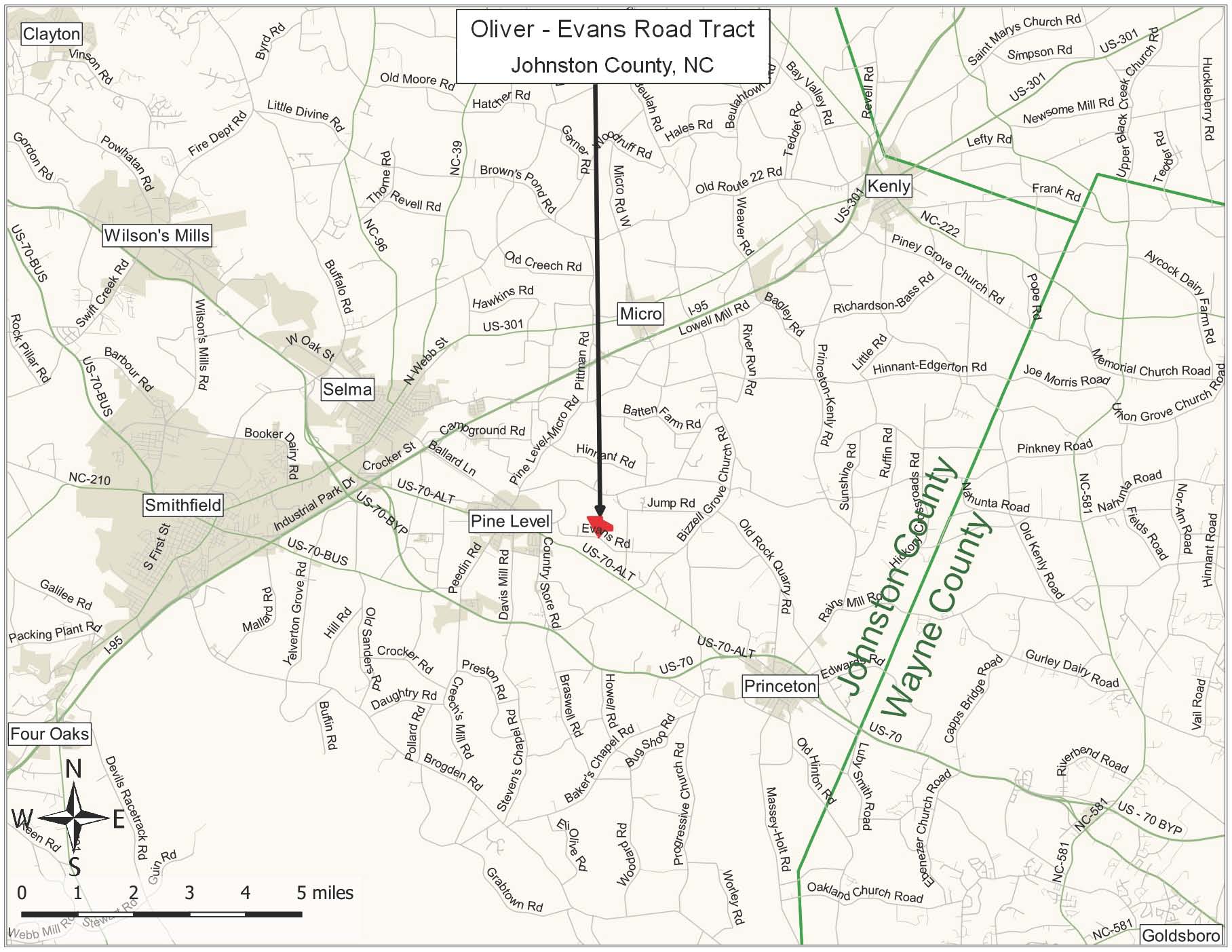 Having been employed by Bill Oliver, we solicit bids on all merchantable timber on 51+/- clear-cut acres as shown on the attached map in Johnston County, North Carolina.  Bids for the sale should be made on a per ton basis for each product to be harvested.  Settlements will be made on a weekly basis.
Sale Conditions:
A period of time until December 31, 2020 will be allowed to cut and remove the timber.
An advance of $5,000.00 will be paid for the clear-cut, to be credited to the purchase price.
Sale boundaries have been or will be marked with pink-glo flagging.
Existing roads must be maintained and restored to their original condition upon completion of logging.  Log decks must be left in a graded condition upon completion of logging and must be approved by TMMOC and the landowner prior to construction.
All logging operations must be in accordance with the guidelines set out in the Best Management Practices Manual of the North Carolina Department of Forest Resources and any applicable local, state, or federal regulations concerning harvesting of timber.  Compliance with BMP guidelines and River Basin Rules will remain the responsibility of the timber buyer, their agents, successors or assigns.
No tops or laps will be allowed to remain in streams, fields, road right-of-ways, or over property    boundaries.  They must be pulled back immediately.
No boundary line trees shall be cut.
Buyer shall be responsible for removal of all trash (cans, bottles, paper, etc.) from loading decks and for any contamination of the property by fuel, grease, or oil spills.
TMMOC reserves the right to stop harvesting operations if, in its sole opinion, excessive rutting or damage to the property is occurring. Buyer will be responsible for repairing any excessively rutted surfaces.
Buyer or logging contractor must maintain workman's compensation insurance and a minimum of $1 Million general liability insurance.
Buyer must assume all risks incident to timber harvesting and shall indemnify, defend, and hold harmless the Sellers and the Seller's agent, Timber Marketing & Management of the Carolinas, Inc., from and against loss of or damage to property of the Buyer, Seller, or others and injuries to or death of all persons resulting from the Buyer's timber harvesting operations.
Prior to the start of logging, Buyer shall deliver to TMMOC a performance bond in the amount of $1,000.00 made payable to Timber Marketing & Management of the Carolinas, Inc.  This performance bond shall be retained by TMMOC in a non-interest bearing account and may be used by TMMOC, on behalf of the Seller, to perform any act required to be done by the Buyer under the terms of this contract.  In the event TMMOC/Seller uses any portion of the performance bond, Buyer shall restore the performance bond to its full amount immediately upon demand by the Seller.  Any unused portion of the performance bond shall be returned to Buyer within 10 days following the completion of a satisfactory final logging inspection.  The amount of the performance bond shall not be deemed a limitation on Buyer's liability for damages.
Buyer must notify Timber Marketing & Management at least 48 hours prior to moving equipment onto the property. A pre-harvest meeting with the logger, buyer, and TMMOC must be conducted before any trees may be harvested.
Only sealed bids will be accepted and owners reserve the right to reject any or all bids. BIDS SHOULD BE MAILED TO: Bill Oliver, c/o Timber Marketing & Management of the Carolinas, Inc., P.O. Box 97803, Raleigh, NC 27624-7803.  They may also be hand delivered to Suite 101, 800 Salem Woods Drive, Raleigh, NC 27615 or telephoned in prior to the time of bid opening. Bids may also be faxed to 919-848-2230. Bids must be made on a per-unit basis and must be received not later than 11:00 a.m. on March 5, 2020.
There will not be any scheduled show trip of the tract; however, you may call and set an appointment, or you may inspect the property at your own leisure.
Sincerely,
Thomas Rudd, NCRF #1699
Forester
Phoe: (919) 846-7520
Email: t.rudd@tmmoc.com