Growth Studies and Yield Projections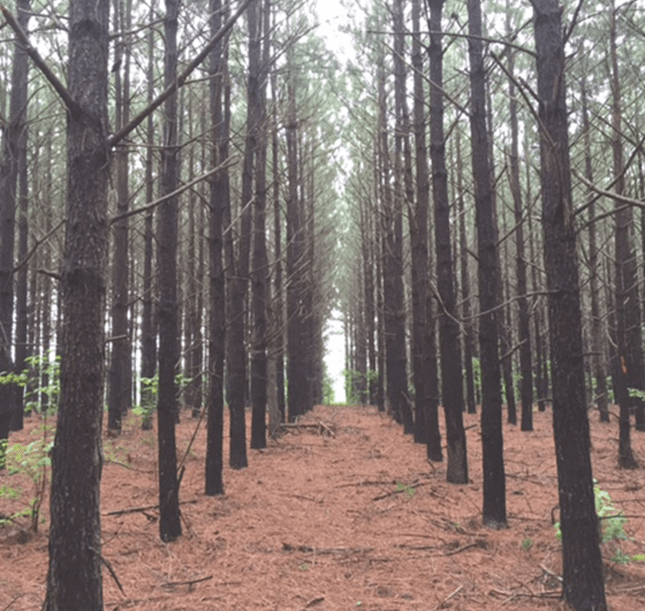 We can project future timber volumes based on current stand conditions and growth rates, to assist you in financial planning. We use computer models to project future timber volumes and harvest yields of planted pine stands. A growth study can also assist in determining your cost-basis in the timber, which can reduce your tax liability when the timber is sold.
A. Ammons
Ammons Development Group
As an absentee property owner, I am very concerned with the integrity and follow-up of the consultants I use. Edwin Orr has exceeded my expectations.  They have been able to provide me with an excellent return on my timber properties, have improved the properties' hunting characteristics, and have done so with little effort on my part.  I wholeheartedly recommend TMMOC to others.
M. L. Boal
Alamance Co., NC
"You're number 1 with me!"  I have trusted Timber Marketing & Management with all of my forest management work for over 20 years now. Edwin keeps providing sound forest management advice and always produces excellent prices on my timber and land sales.
N. Groff
Northampton County, NC
Just wanted to drop you a note to thank you for the time you spent with the family today educating us all on our properties. Since working with you for so long, I have a certain sense about your experience and the value you add to the forest management process. I am pleased to say that my sister, not having had the benefit of that experience, left with a significant level of confidence as well. So thanks again for the tour. Time is valuable and I greatly appreciate yours.
J.P. and S.H. Johnson
Granville County, NC
We have had an extremely good experience working with Mr. Orr. We are so delighted that he was able to get top dollar for us, at least twice what we thought it might be worth and he found a buyer for us in a matter of a few weeks. The whole transaction was a breeze for us. We highly recommend Mr. Orr for anyone needing his services.
Sincerely A. R. Royster
Vance County, NC
Thank you for all your help in selling my farm. I was surprised it sold so fast. I will be forever thankful to you.
T. Tobul
Chatham County, NC
Thank you for your support through the entire due diligence and purchase process. You are a "Straight Shooter" and provide clear answers to many complex questions. It was a pleasure working with you on this transaction and I look forward to continued interaction.
Cynthia C. Thomas
I'd like to thank you for working so successfully with our family on the sale of our land. The decision to sell was a difficult one for me, but I'm satisfied it was the right one to make. I'm very glad you were the man chosen to lead the process. I was kept informed during each step made and especially enjoyed looking at your website which included photos and description of our land. Again, thank you for all of your hard work in selling the land.
Anne & Adam
Working with Thomas was an absolute pleasure. We had full confidence that he had our best interests in mind throughout the whole process. His professionalism, knowledge and insight are exemplary, and above an beyond what we have experienced in the past. We value the level of service we received and hope we can continue to rely on your professional services in the future! Kind regards,
Paul Smith
Frontline Defense Firearms Training Center and Range
If you're looking for large tracts of land for timber, farming or hunting, Edwin can find it! He helped me locate the perfect tract of land for my business which now has grown to the largest operation of its kind in NC. Can't thank him enough.